Mortise door locks and cylinders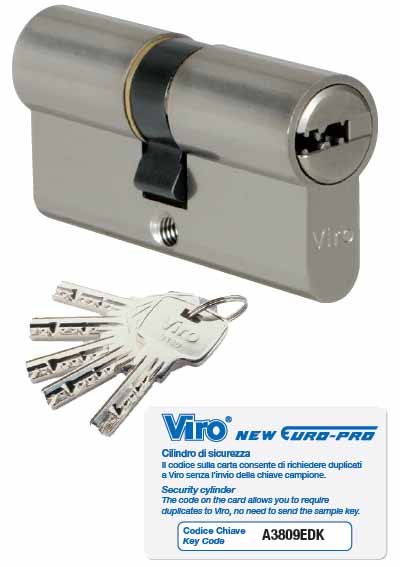 NEW EURO-PRO - double cylinders
Body:


solid extruded brass, with special "Pearl Nickel" plating.

Pull-resistant support:


AISI 304 inox stainless steel.

Plug:


brass, 5 or 6 pins.

Keys:


supplied with 5 dimple and reversible nickel-plated brass keys (that don't ruin your pockets and can be inserted either way up), in a sealed envelope.

On request 1 construction key in the single box.

Coded ownership card (key code):


indicating the retailer data.

Mechanism:


cylinders with double entry function permitting independent action of the keys on the cam, even when the key is inserted on the opposite side;

tempered, AISI 420C inox stainless steel pins;

first set of tempered AISI 420C inox stainless steel counterpins and caps;

mushroom brass counterpins, pick-resistant;

inox stainless steel pin springs;

Supplied with:


metric-thread fixing screw.

Packaging:


personalized single pack, in 5 piece boxes.

On request:


polished and lacquered brass versions (add .013 at the end of the code instead of .009) for minimum order 200 pcs.
820 RANGE - Double cylinders